Popcorn & Concessions
Popcorn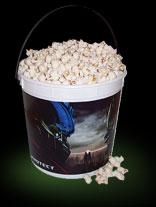 There is no great debate, our customers agree that we have THE BEST popcorn! We don't believe in using the 'Artificial Golden God' that is butter flavored topping as a substitute for the real thing. We only use 100% REAL CLARIFIED* BUTTER. This butter is locally produced in Greenwood, WI by Grassland Dairy.
*Clarified Butter, simply means, butter that has had the water removed. (a.k.a "Anhydrous")
Sizes available:
Box (No Butter): $2.00
Small 44oz: $3.00
Medium 85oz: $4.00
Large 170oz: $6.00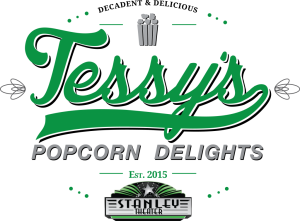 Now offering our own Gourmet Popcorn, buy some of Tessy's Popcorn Delights when you visit the Stanley Theater or enter a "Pick Up Order" on the web store and it will be ready for your when you come to the theater!
To Go Orders
Can't join us for the movie? Well, please stop in and pick up some popcorn to go.  Conveniently, two of our available sizes, are offered in plastic pails with lids for that To Go order!
Sweet Treats & Beverages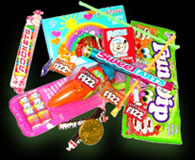 What is better than sweet and salty? NOTHING, in our opinion. To ensure that we offer our customers a way to satisfy their cravings of sweet and salty or just sweet we offer a value selection of sweet treats starting at 50¢. Included, are many nostalgic favorites such as 'Candy Necklaces' 'Candy Stix' and even 'Lemonheads' or a tasty 'Ring Pop'.
We offer Coke® products; including: Coke, Diet Coke, Sprite, Mello Yello, Root Beer, & Minute Maid Lemonade.

Sizes available:
Small: $2.00 (16 oz)
Medium: $3.00 (22 oz)
Large: $4.00 (32 oz)
It is our goal to ensure you and your family can "See Us at the Movies" as well as enjoy popcorn, beverages, and other sweet treats for an affordable price.
We aren't a budget cinema, but we keep your budget in mind!
See you at the concession stand!!!