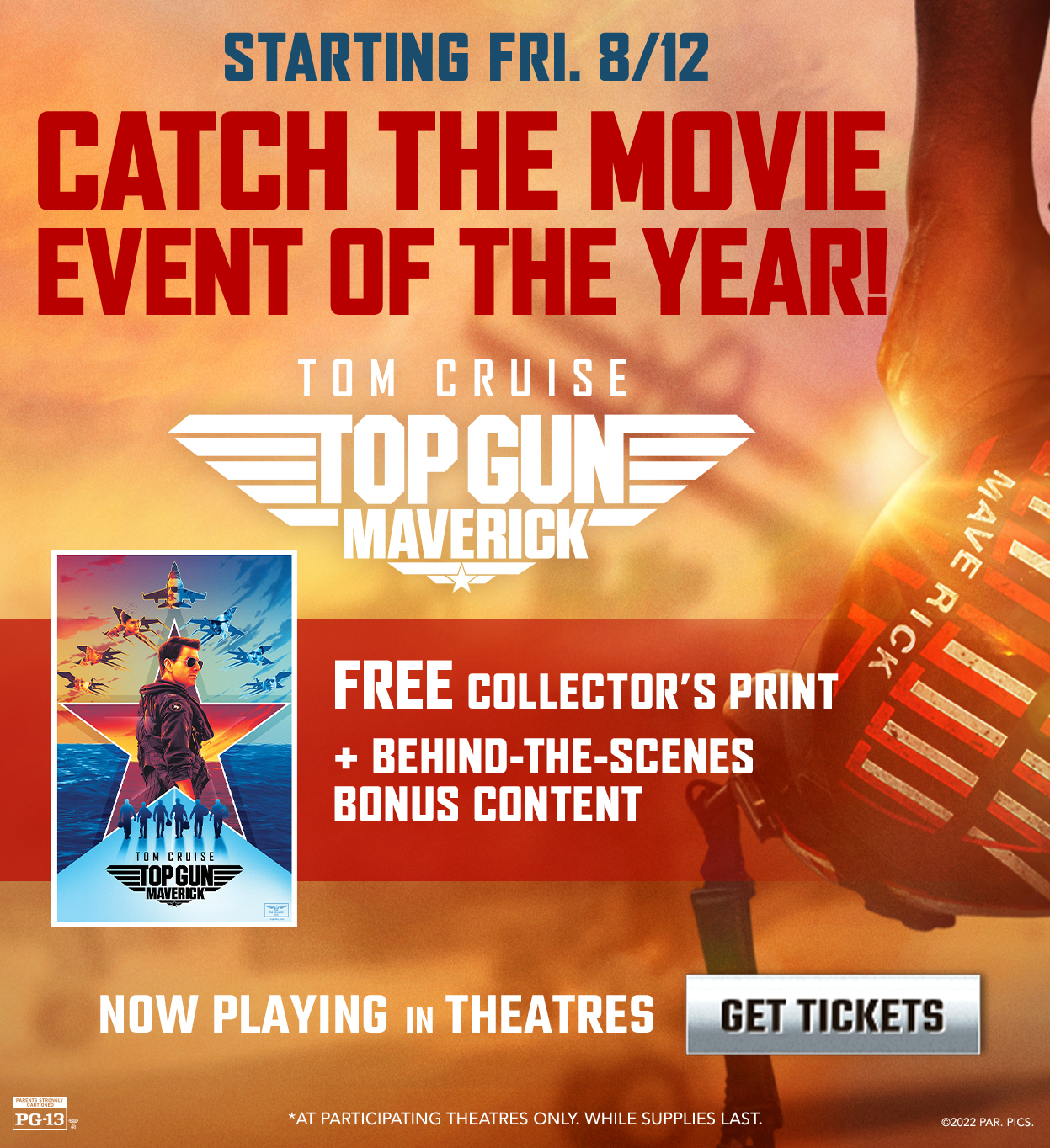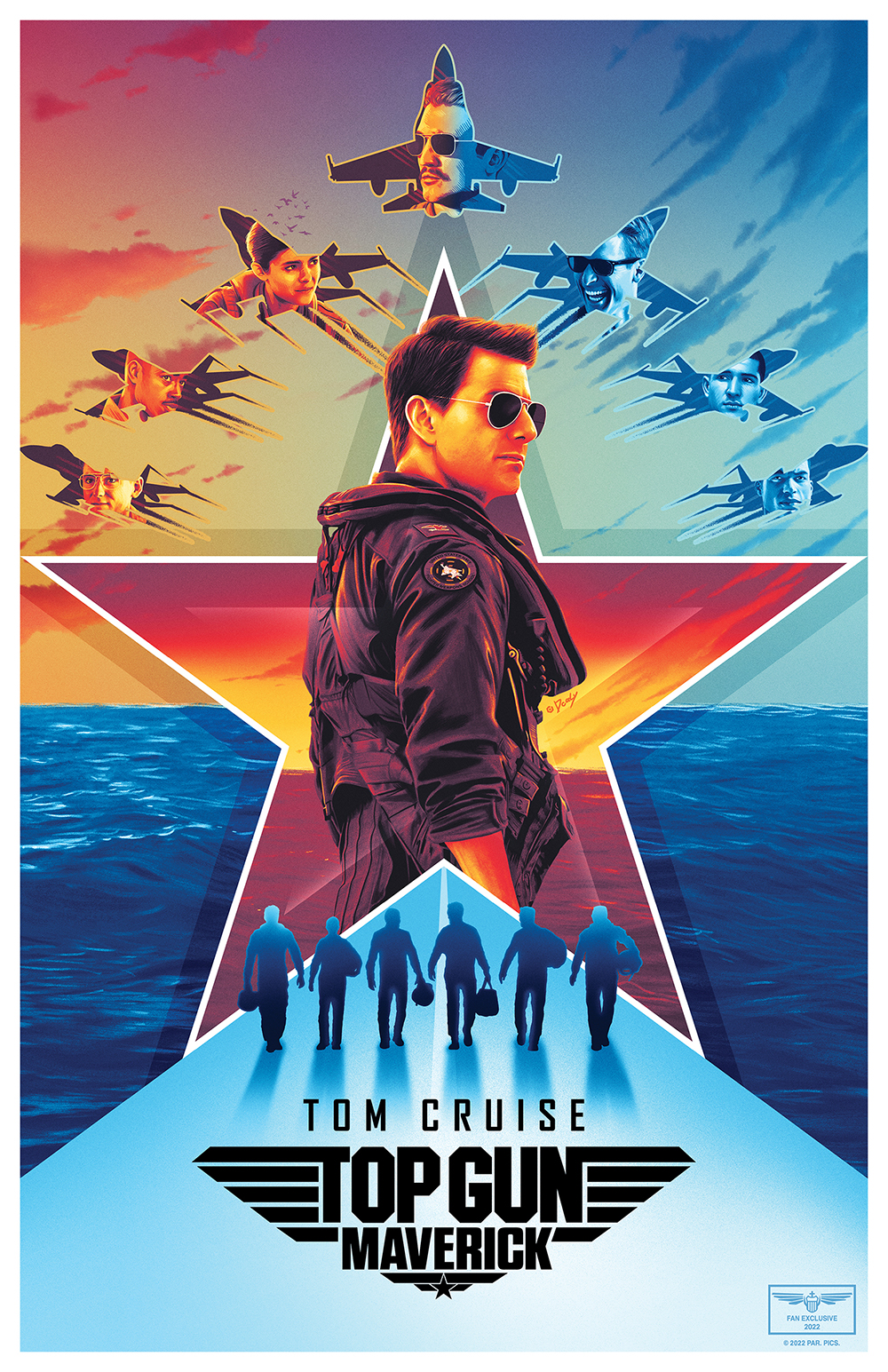 Top Gun 'Fan Appreciation Event'

Friday, August 12th 7:30pm
Saturday, August 13th 7:30pm
Sunday, August 14th 1:30pm, 7:30pm

Tuesday, August 16th 7:30pm
$5 Tuesday All Seats
PARAMOUNT PICTURES ANNOUNCES TOP GUN: MAVERICK "FAN APPRECIATION WEEKEND" AT THEATRES NATIONWIDE
HOLLYWOOD, CA (August 8, 2022) –
On the heels of Top Gun: Maverick becoming the seventh-highest grossing movie at the domestic box office of all time, Paramount Pictures today announced Top Gun: Maverick "Fan Appreciation Weekend," a theatrical celebration to thank fans for making the film the movie event of the year.
"Paramount Pictures is eternally grateful to the millions of fans going to theatres to experience Top Gun: Maverick the way it was meant to be seen — on the big screen," said Chris Aronson, President, Domestic Distribution of Paramount Pictures. "We are excited about the Maverick fanfare starting this Friday…a small token of our appreciation for the remarkable support we have received from fans."
This Friday, August 12th, marks the return of Top Gun: Maverick to some of the most immersive cinema formats at participating theatres.  From Friday through Sunday, August 14th, before the movie presentation begins at all participating theatres, attending fans will experience exclusive content featuring a behind-the-scenes look at shooting onboard the USS Roosevelt with Tom Cruise and the cast to see what it takes to operate, film, and live on an active warship.  The Stanley Theater will be a participating theater in this special event with showtimes Friday, August 12th 7:30pm, Saturday, August 13th 7:30pm and Sunday, August 14th 1:30pm, 7:30pm stanleymovietheater.com.
A new Top Gun: Maverick Collector's print, commissioned and designed for fans by UK artist Doaly, will be given away to ticketholders at participating theatres starting Friday (while supplies last), and more information can be found at local theatre listings and exhibitor websites.
As of August 7, Top Gun: Maverick has earned $662.5 million domestically and $690 million internationally.  Top Gun: Maverick is the seventh-highest grossing film in domestic box office history, surpassing Titanic. It is Paramount Pictures' highest-grossing film globally ever and the highest-grossing movie ever for Tom Cruise.
Top Gun: Maverick is produced by Paramount Pictures, Skydance and Jerry Bruckheimer Films. Directed by Joseph Kosinski from a screenplay by Ehren Kruger and Eric Warren Singer and Christopher McQuarrie, story by Peter Craig and Justin Marks, and based on characters created by Jim Cash & Jack Epps, Jr., the film stars Tom Cruise, Miles Teller, Jennifer Connelly, Jon Hamm along with Ed Harris and Val Kilmer.
About Paramount Pictures
Paramount Pictures Corporation (PPC), a global producer and distributor of filmed entertainment, is a unit of Paramount (NASDAQ: PARA, PARAA), a leading global media and entertainment company that creates premium content and experiences for audiences worldwide. Paramount Pictures controls a collection of some of the most powerful brands in filmed entertainment, including Paramount Pictures, Paramount Animation, and Paramount Players. PPC operations also include Paramount Home Entertainment, Paramount Pictures International, Paramount Licensing Inc., and Paramount Studio Group.
Where the Crawdads Sing

Friday, August 19th 4:30pm, 7:30pm
Saturday, August 20th 4:30pm, 7:30pm
Sunday, August 21st 1:30pm, 4:30pm, 7:30pm

Tuesday, August 23rd 7:30pm
$5 Tuesday All Seats
From the best-selling novel comes a captivating mystery. Where the Crawdads Sing tells the story of Kya, an abandoned girl who raised herself to adulthood in the dangerous marshlands of North Carolina. For years, rumors of the "Marsh Girl" haunted Barkley Cove, isolating the sharp and resilient Kya from her community. Drawn to two young men from town, Kya opens herself to a new and startling world; but when one of them is found dead, she is immediately cast by the community as the main suspect. As the case unfolds, the verdict as to what actually happened becomes increasingly unclear, threatening to reveal the many secrets that lay within the marsh.
Where the Crawdads Sing stars Daisy Edgar-Jones (Normal People) as "Kya Clark," Taylor John Smith (Sharp Objects) as "Tate Walker," Harris Dickinson (The King's Man) as "Chase Andrews," Michael Hyatt (Snowfall) as "Mabel," Sterling Macer, Jr. (Double Down) as "Jumpin'," and David Strathairn (Nomadland) as "Tom Milton." Olivia Newman (First Match) directs the screenplay by Lucy Alibar (Beasts of the Southern Wild) based upon the novel by Delia Owens. The 3000 Pictures film is being produced by Reese Witherspoon and Lauren Neustadter.
Directed by:  Olivia Newman
Screenplay by:  Lucy Alibar
Based on the novel by:  Delia Owens
Produced by:  Reese Witherspoon, Lauren Neustadter